What should we wear?
I hear this question A LOT. It can be really stressful trying to get everyone dressed for the shoot, so it's a good idea to plan the outfits a week or so prior to your session.  That way, you're not running around trying to find a specific piece of clothing the day before your scheduled shoot.  Who needs that added stress, right?
HOW TO GET STARTED: 
Start with a special piece: a cute little girl's dress, a scarf, a nice sweater, jewelry, etc. and then select the rest of the clothing to compliment that piece. Pick a color from the inspiration piece that looks nice on everyone in your family and work around it. Try to stick to one or two patterns.
Example:
Let's say, everyone looks good in blue.  So, use blue as your main color. However, you want to avoid getting too matchy-matchy since different outfits make the photograph more dynamic and interesting. Therefore, you don't want to put everyone in jeans and a blue sweater.  What you can do is dress one person in your family in a blue sweater or shirt.  Another person wears a sweater or shirt that has the same blue with a simple red stripe.  The third person wears a white shirt with a coordinating jacket and another person wears a blue and red (and possibly white) pattern dress, sweater or shirt.  If you have a fifth person in your family, they could even wear a red sweater, shirt or jacket.  That way, everyone's clothes are coordinated but it's still interesting and not too busy.
STICK TO 3 OR 4 COLORS:
Try to stick to 3 or 4 colors.  Too many colors can be distracting.  We want the focus to be on you and your family!  Also, unless you have darker skin, I generally recommend not wearing a white shirt (without an accessory with color) because it has a tendancy to wash people out and make them appear more pale.
TEXTURES LOOK GREAT:
It also looks nice to mix in different textures. You can add texture with layers, ruffles, knits, embellishments, etc.  Make sure you feel like yourself and are comfortable in your clothes.  And while your shoes should be comfortable, remember that they will show!  So, you want them to look nice as well.
LAY IT ALL OUT:
Finally, lay everything out on the bed and pretend it's one outfit.  How does it look?  Is it coordinated?  Does anything stand out too much?
THINK ABOUT THE END RESULT: 
Also, take a moment to think about how you envision using your pictures.  Of course, you want to share them with friends and family, but are you also looking for a beautiful piece of wall art?  Think about where you would like to display your images in your home and coordinate with that area.  Also, would you prefer that the images look casual (jeans) or would prefer a more formal look. 
STILL NOT SURE? 
If you're still having trouble deciding what to wear, take a picture of the clothes and text or email it to me. We can discuss your options or I can put you in touch with one of my amazing stylists who can offer a professional consultation, go shopping with you, or get your sizes and do all the shopping for you!
For more ideas on what to wear, check out the images on my website. 
EXAMPLES AND ANALYSIS:
Here is a great example of a red, white and blue color scheme. Mom's red dress really pops, her necklace is a nice looking accessory without being too distracting.  The red is also nicely repeated in the little boy's pants and dad's tie. They kept the patterns to a minimum (just the tie and the sweater) so that the image isn't too busy.  The layers of the sweaters and the little boys jacket creates a nice added texture to the image.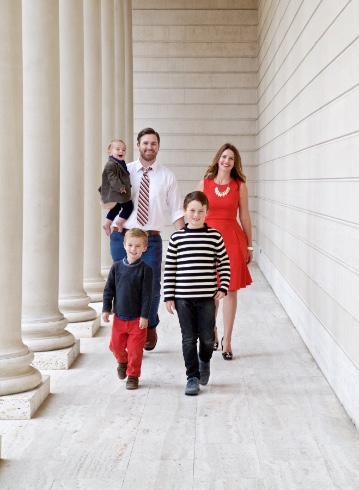 Here is an example of the outfits I used for our holiday card one year.  I decided I was tired of sending out traditional cards. I wanted to have something bright and cheery.  So, I sarted with my eldest daughter.  She has dark coloring so yellow looks really good on her.  I liked the yellow vest because of the texture and layering affect that it created.  My two middle kids are much fairer skinned so I put them in blue and the littlest one (also with darker features ).  There are some stripes and polka dots to add some patterns, but more solids than patterns to keep it from being too busy.